aku skrg nie mmg giller psl shawl!!!klu aku bukak youtube,1st thing yg aku akan click adalah kt 'how to wear shawl'...hahahaah:)
so,sbg muslimah yg idop pd zmn millinium nie,aku x ketinggalan gak utk mengikuti p'kembgn fesyen semasa...so my idol of courselah:
~YUNA
~
she's so adorable,young n pretty..i wish i could be like her..hmmm...ok what...
dahlah dpt jmpe dgn Qi slalo...uhhh...jealousnya:(
anyway we are what we are....
so ksmpulannya,aku xleh jd yuna n yuna pon x leh jd aku....hahhahahaha..giLa:P
buat Qi???no way!
sweet kan?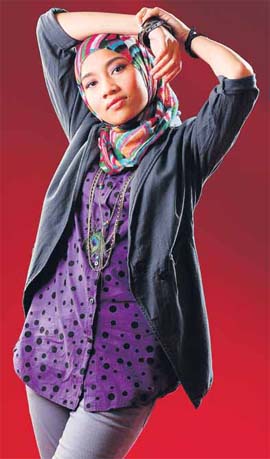 wow...sexy!!!
agak pelik kan shawl nie?cmne nk pkai eh???
cheers~
tp papepon aku actually x ksh sgt klu dya kwn/gf kpade sesapepon asalkan dya pndai jge diri sndr...
hahahhahahahaha....
FYI selain yuna,aku mnat gak kat heliza n bienda...dorg pon cun gak:P
so oklah,thats all for now...
chow~
p/s:klu korg ade pape citer psl yuna gi tau taw... :)
lastly...I LOVE YOU,YUNA!!!